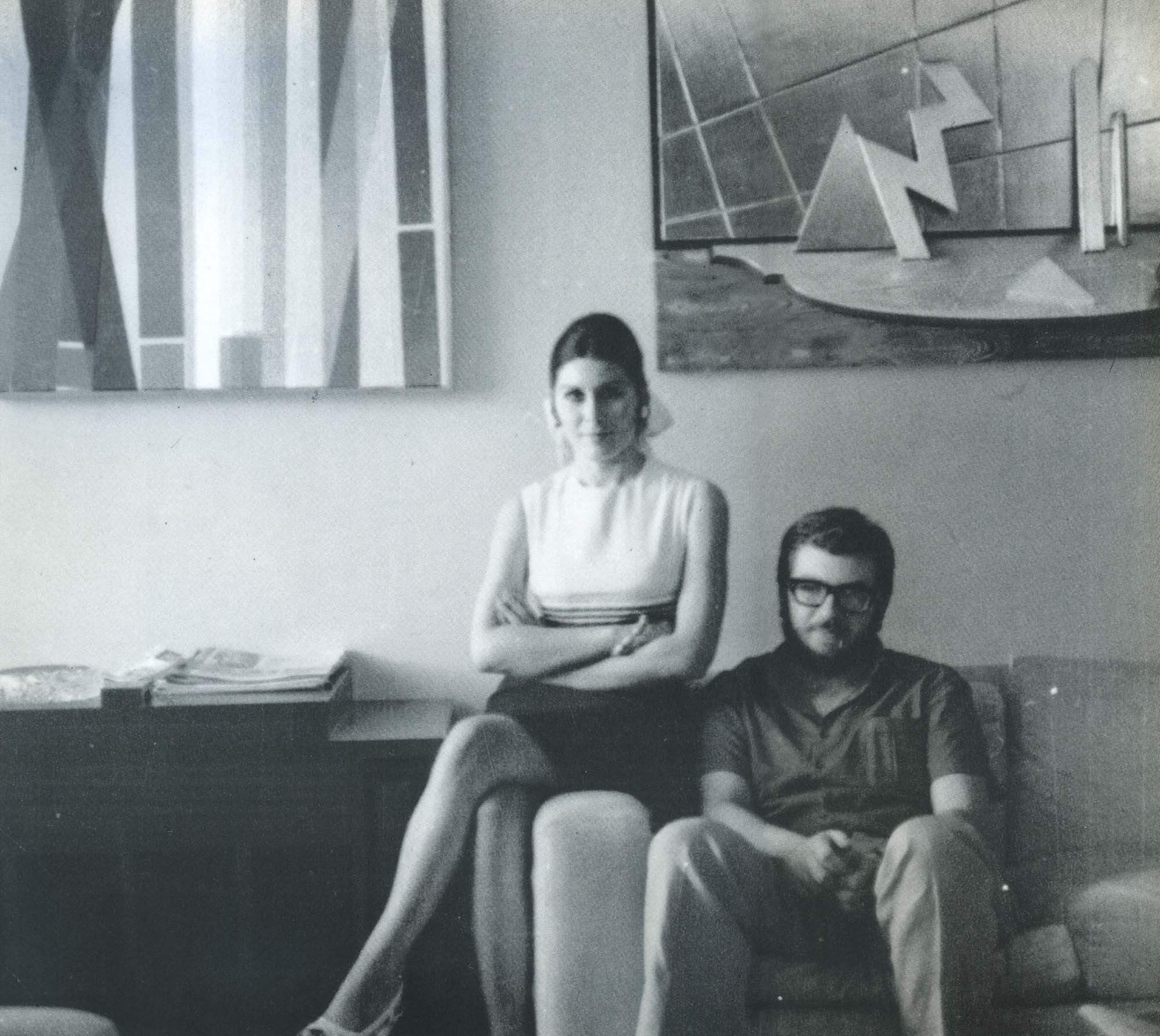 About
In the '60s, Lia and Marcello Rumma, young collectors from Salerno, become promoters of exhibitions and happenings that present a new generation of artists.
Marcello Rumma sponsors and organizes important festivals in the Ancient Arsenals of Amalfi where art and critic blend together: 'Aspetti del Ritorno alle cose stesse' (1966), curated by Renato Barilli; 'L'impatto percettivo' (1967), curated by Alberto Boatto and Filiberto Menna; 'Ricognizione Cinque' in the Einaudi spaces of Salerno (1968) curated by Angelo Trimarco; 'Arte Povera più Azioni Povere' (1968), curated by Germano Celant, the first public show of Arte Povera and an important moment of internationalization of art – it is unanimously considered by the critics one of the most important group shows held in Europe since the 60s.
The urgency to publish essays on art and philosophy and to bring in Italy writings by foreign authors, push the couple to found, in 1969, publishing house – Rumma Editore – thought as to be "the cultural wing of the artistic activity".
THE 70s

In 1970, after the death of Marcello, Lia Rumma moved to Naples and in 1971 opened an art gallery with the solo show 'The Eight Investigation (A.A.I.A.I.) proposition 6' by Joseph Kosuth – considered today as one of the pioneers of Conceptual Art.

Since the beginning, Lia Rumma intends to address her research towards contemporary art movements both national and international (Arte Povera, Minimal Art, Conceptual Art) and towards their protagonists whom she invites to exhibit in her Neapolitan space: Vincenzo Agnetti, Giovanni Anselmo, Art&Language, Alighiero Boetti, Victor Burgin, Douglas Huebler, Emilio Isgrò, Donald Judd, Dan Graham, David Lamelas, Francesco Matarrese and Michelangelo Pistoletto to name a few. In 1976 Lia Rumma exhibited at her first Art Basel art fair where she exhibited the gallery's activities in direct comparison with the international art system.

1974

Lia Rumma and Giovanni Anselmo | Lia Rumma Gallery, Naples | 31.05.1974 | photo credit: Bruno del Monaco.

1975

Gino De Dominicis and Francesco Marattese during Francesco Matarrese's solo show | Lia Rumma Gallery | Piazza Navona, Rome | 23.04.1975 | photo credit: Bruno del Monaco.

THE 80s

Since the '80s, Lia Rumma starts an intense and productive collaboration with the institutions and with the Soprintendenza per I Beni Artistici e Storici of Naples organizing important public exhibitions, e.g. 'Rooted Rhetoric - A Tradition in American art' curated by Gabriele Guercio (1986) at Castel dell'Ovo; Gino De Dominicis' solo show (1986) and the permanent installation 'Modus Operandi, Cancellato Rovesciato' by Joseph Kosuth (1988) at Capodimonte Museum.

Simultaneously, the gallery activity of research continues presenting, among others, Haim Steinbach's first European solo show (1987) and shows by Cindy Sherman (1988), Reinhard Mucha (1989) and Alberto Burri (1989).

1986

'Rooted Rethoric: una tradizione nell'arte americana', curated by Gabriele Guercio | Castel Dell'Ovo, Naples.

1988

Lia Rumma and Haim Steinbach, on the occasion of the artist's solo show | Lia Rumma Gallery, Capri.

1989

Gino De Dominicis, Lia Rumma and Alberto Burri, during the dinner in honour of Alberto Burri's solo show | Lia Rumma Gallery, Naples.

1989

Lia Rumma the little Aglaia, Monika e Reinhard Mucha, during the installation of the exhibition 'Mutterseelenallein' by Reinhard Mucha | Lia Rumma Gallery, Naples.

THE 90S

At the beginning of the '90s, Lia Rumma Gallery held various exhibitions dedicated to fine art photography, presenting the work of artists such as Andreas Gursky (1992), Thomas Ruff (1991), Günther Förg (1995), Mimmo Jodice (1995) and Christopher Williams (1997).

Anselm Kiefer inaugurates his first solo show with the gallery in 1992 in Naples and a few years later his monumental project "Woodcuts" opened at Capodimonte Museum (1997). That same year Vanessa Beecroft's performance "VB26" is held at Lia Rumma Gallery in Naples.

In 1994 the group show "Le Costanti nell'arte" at the Hangar in Via Brin in Naples, marks a synthesis of the work developed so far and in 1999 Lia Rumma opens a new gallery space in Milano, in Via Solferino in the cultural area of Brera, inaugurated with the solo show by Enrico Castellani.

Thus, with the end of the XX Century, Lia Rumma strengthens her bond with the artists who are now invited to develop projects and exhibitions for the new space in Milano, too.

1992

Anna Rea, Andreas Gursky and Lia Rumma during the artist's opening | Lia Rumma Gallery, Naples.

1994

Lia Rumma during the installation of the group show 'Le costanti nell'arte' | Hangar di Via Brin, Naples.

1997

Lia Rumma and Vanessa Beecroft in occasion of the first performance of the artist "VB26" at Lia Rumma Gallery, Naples.

1999

Opening of Lia Rumma Gallery in Milan with a solo show by Enrico Castellani, Milan.

2000

Since the year 2000 the projects organized in cooperation with Italian and foreign cultural institutions intensify, such as in 2004 Anselm Kiefer's permanent installation "The Seven Heavenly Palaces" at Hangar Bicocca in Milano; "Elektra" with scenes designed by Kiefer (2003) and the "Magic Flaute" directed by William Kentridge at San Carlo Opera House in Naples; Vanessa Beecroft's performances "VB48" (2001) and "VB62" (2008) at Palazzo Ducale in Genova and at Chiesa dello Spasimo in Palermo; the permanent installations by Joseph Kosuth and William Kentridge for the Underground in Naples and Kentridge solo exhibition "Tapestries" at the Philadelphia Museum of Art (2007).

While, in the gallery, spaces continues the intense program with solo and group exhibitions by artists such as Clegg&Guttmann (2001), Marina Abramovic (2002), Mocellin-Pellegrini (2002), Granular Synthesis (2003), Alfredo Jaar (2004), Ilya&Emilia Kabakov (2005), Hendrik Krawen (2006) and Tobias Zielony (2007).

2000

Ilya Kabakov, Lia Rumma and Emilia Kabakov on the occasion of the artist's solo show | Lia Rumma Gallery, Naples.

2004

Installation view of the permanent installation "The Seven Heavenly Palaces" by Anselm Kiefer | Pirelli Hangar Bicocca, Milan.

Installation view of Alfredo Jaar's solo exhibition | Lia Rumma Gallery, Milan.

2006

Lia Rumma and Marina Abramovic, Stromboli.

FROM 2010

In 2010 the location of the gallery in Milan moves to the new three levels building of 2000sqm in Via Stilicone that inaugurates in May with a solo exhibition by Ettore Spalletti.

At the same time, the renovated Neapolitan space opens the same year with a solo show by Marzia Migliora.

2010

Opening of the solo show 'Ho visto con i miei occhi quanto è lontana la terra' by Ettore Spalletti | Lia Rumma Gallery, Milan.

Lia Rumma and Marzia Migliora at the artist's solo show | Palazzo Branciforte, Palermo, 2017

The role of the gallery as a place for research and promotion of Italian contemporary art is confirmed with the double solo exhibitions of Ugo Mulas photographs in Milan and Naples and the shows by Gilberto Zorio, Luca Monterastelli, Michele Guido, Gian Maria Tosatti and Domenico Antonio Mancini. Lia Rumma's commitment to work with Italian and foreign institutions goes on giving birth in 2016 to the large-scale public projects by Kentridge "Triumphs and Laments" in Rome and in 2017 Vanessa Beecroft's performances at the Uffizi Galleries, Palazzo Strozzi in Florence and Padula Charterhouse. In 2012, Lia Rumma opens the doors of her private house in Palazzo Donn'Anna where she installs part of her own collection. In the meantime, the artists who work with the gallery are exhibiting in the most prestigious museums, participating at various editions of the Venice Biennale, Documenta and many other important international art venues.

2016

William Kentridge, Triumphs and Laments: a project for Rome.

2019

In 2018-2019, on the occasion of the 50th anniversary of the exhibition "Arte Povera+Azioni Povere", Lia Rumma has shared her historical and private archive to the public with the shows "Arte Povera: Homage to Amalfi '68" at Philadelphia Museum of Art curated by Carlos Basualdo and Erica Battle, with the curatorship of Gabriele Guercio and "I sei anni di Marcello Rumma – The Six Years of Marcello Rumma" at MADRE Museum in Napoli curated by Gabriele Guercio with co-curator Andrea Viliani.

2022

12 years later, after the inauguration of its new venue in Milan, the Lia Rumma Gallery is once again hosting a solo exhibition by Ettore Spalletti.

Gian Maria Tosatti presents the project 'Storia della Notte e Destino delle Comete' (History of Night and Destiny of Comets) in the Italian Pavilion at the 59th Venice Art Biennale. This is the first time that the pavilion is hosting the work of a single artist. The project is curated by Eugenio Viola.